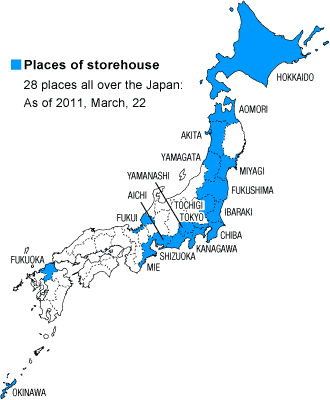 CURRENT ACTIVITIES
After the recent tragic events, we in BOND&JUSTICE felt that we needed to do whatever we could to help the victims of the disaster.
The day after the great earthquake struck, we began delivering relief supplies to the afflicted areas.
Our representative, Masahiro Oodo, was himself a victim of the disaster.
We began delivering supplies out of a desire to help the people in the afflicted areas, whilst fully aware that the reconstruction efforts will probably take a long time.
Though a voluntary organization, we have strong network based on bonds forged over many years by our representative. We are currently headquartered in the Setagaya area, but a priority on dispatching supplies has meant we have not yet been able to establish a proper, formal office.
Oodo called upon the help of a circle of friends and acquaintances built up at previous workplaces. As of April 11, we have been able to set up 28 storehouses for relief supplies across Japan. We are dispatching relief supplies to the afflicted areas on a daily basis.
We have built a network of around 1,000 supporters and donors and are currently collecting around 10 tons of supplies a day.
We have already managed to dispatch a total of 150 tons of supplies to 10 areas.
---
[The photograph: Left]
Around 10 tons of supplies are collected each day at our warehouses across Japan.
(Upper figure reference.)
[The photograph: Right]
A precise determination of "who needs what now." is determined by direct consultation.
COMMUNICATION AND ARRANGEMENTS WITH THE LOCAL ORGANIZATIONS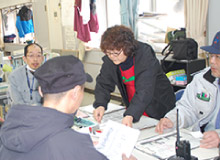 We understand which areas need supplies based on information supplied by our network members. We then contact and make arrangements with local organizations in Tohoku.
This gives us an idea of which areas in particular need supplies, whether isolated villages,separate communities or unofficial refugee centers.

We started with purchasing the relief supplies using our own funds. We arranged transportation trucks and then dispatched the supplies to the afflicted areas by ourselves.
We deliver the supplies mainly using rental cars or trucks kindly lent to us by supporters.

Our distribution network is gradually taking shape, with supplies sent by supporters being stored in 28 warehouses that were also provided by some of our supporters. These supplies are then collected together in Tochigi prefecture at our closest warehouse to the disaster area.
After a record is made of where the supplies will be shipped to, they are finally dispatched to the afflicted areas.
At the afflicted areas, the supplies are arranged and distributed after a precise determination of "what are needed now." This determination is arrived at through direct consultation with leaders at the target refugee centers or with the victims themselves.

Our interactions with the victims are recorded through video or photographs. It will take a long time for the afflicted areas to recover,so we will continue to call upon the help of our supporters to ensure that the victims of this tragedy are not forgotten.
Network members give us information on the areas that need supplies before we make arrangements with local organizations. This gives us an idea of which people, villages and unofficial refugee centers need the supplies, which are then dispatched in a swift and precise manner.
PRESS RELEASE
2011.4.24 "This is not 'someone' else's problem. This is everyone's responsibility."
(JAPANESE / Postcard size / 1.5MB: PDF)
2011.3.25 "This is not 'someone' else's problem. This is everyone's responsibility."
(JAPANESE / A4 size / 4.5MB: PDF)